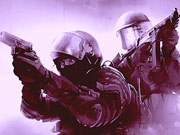 Army Sniper
---
Description :
Army Sniper is undoubtedly one of the most interesting shooting games this year. It has addictive shooting gameplay and precise aiming screens. Your task is to kill all enemies in the military management zone. Be careful not to expose your sniper rifle. There are a total of 50 different levels in the game waiting for you to challenge. In order to enable players to get the best sniper experience, the game also sets up a professional scope for players to use. If you like this game, don't forget to share it with your friends!
Keywords :
Truck, Submachine Gun, Sniper, Shooting, Shoot 'Em Up, Obstacle, Kids, Gun, Car, Boy, Skill
Control :
Click and drag the mouse to play.
Author :
julgames.com
---
Comments
Please login or register to post a comment