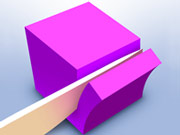 Asmr Slicing
---
Description :
Do you like fruit ninja games? You can continue to experience sliced fruits in the game Asmr Slicing, but the rules are different. There are some big fruits on the platform, you have to divide them into several pieces. These fragments will fall off under gravity. Finally, they will fall into the blender and you can get delicious juice! It is worth noting that the first half of the level is relatively simple, but the second half of the level is very difficult, are you ready?
Keywords :
Skill, Relaxation, Puzzle, Kids, HTML5, Fruit, Food, Editor Choice, Brain, Boy, ASMR, Android
Control :
Slide or click to slice.
Author :
yad.com
---
Comments
Please login or register to post a comment