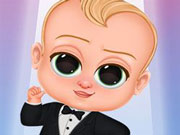 Baby Boss Photo Shoot
Category :
girl
Note :
(0)
---
Description :
People all over the world are paying attention to the US presidential election. Leaders from different parties will participate in this election. Boss Baby is very happy that he is about to participate in the election. He wants to perform in some cool costumes. Beach style or skateboard style? Casual wear or professional office suite? Hip-hop or mini superhero? The boss cannot make a decision. As a professional costume designer, come and help the presidential candidates choose and try different costumes.
Keywords :
Superhero, Spiderman, Kids, HTML5, Girl, Fashion, Dress Up, Cute, Cartoon, Batman, Baby
Control :
Left Mouse Click.
Author :
cutedressup.com
---
Comments
Please login or register to post a comment