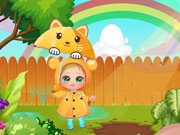 Baby Cathy Ep14: 1st Rain
Category :
girl
Note :
(0)
---
Description :
In the story, she is really surprised about the rain and very eager to know about the rain much more. So let us help her by showing the details in the mobile by showing the procedure of the formation and falling rain from the sky, later lets us prepare for the rain with the raincoat and she wants to go out and play, so dress her in cute rain dress and help her to jump on the rocks without falling into pits and finally we all know frogs will chirp after rain, so let us match and select the same colored frog with correct music play.
Keywords :
Skill, Kids, HTML5, Girl, Fashion, Educational, Dress Up, Bird, Baby, Arcade, Animal, Android
Control :
Click to play.
Author :
y8.com
---
Comments
Please login or register to post a comment