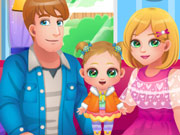 Baby Cathy Ep7: Baby Games
Category :
girl
Note :
(0)
---
Description :
Baby Cathy Ep7 Baby Games is the seventh work in this series. Here our cute little Cathy back again to have fun with us. Now we can see, Cathy is growing very quick and she always wants to play and regularly skipping her food and sleep, so her parents are quite worried, so let us help them with playing with cute Cathy, like dress her up and let us play basketball with her and claw machine, fishing and lot more. We all know, playing is the main activity for kids to have regular sleep and appetite.
Keywords :
Skill, Relaxation, Music, Kids, HTML5, Girl, Fishing, Fish, Dress Up, Car, Block, Collecting
Control :
Click to play.
Author :
y8.com
---
Comments
Please login or register to post a comment