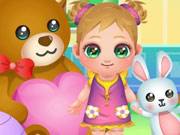 Baby Cathy Ep9: Bathroom Hygiene
Category :
girl
Note :
(0)
---
Description :
Baby Cathy Ep9: Bathroom Hygiene is the ninth work in this series. During the epidemic, personal hygiene has become very important. Our Baby Cathy is learning from mothers how to wash hands correctly. She will show us the hygiene of the bathroom and wash our faces, brushing teeth, changing clothes, can you guide Baby Cathy to complete all the tasks correctly? Let Baby Cathy develop good hygiene habits.
Keywords :
Room, Kids, HTML5, Girl, Educational, Cleaning, Cat, Baby, Animal, Android
Control :
Click to play.
Author :
y8.com
---
Comments
Please login or register to post a comment