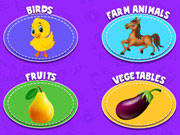 Baby First Words
Category :
girl
Note :
(0)
---
Description :
There is a saying that parents are the children's first teachers because when the children can't speak, the parents teach the children to speak and language. Baby First Words is a game that helps children learn their mother tongue and recognize words. Look at these cute animals, fruits and vegetables, airplanes and cars, do you know their names? Follow me to learn these words! You will know the names of cute animals, airplanes and cars! If you are a kid who likes learning and memorizing words very much, don't miss this game.
Keywords :
Word, Truck, Train, Motorcycle, Monster Truck, Monkey, Memory, Letters, Kids, Horse,
Control :
Mouse click or tap to play.
Author :
babygames.com
---
Comments
Please login or register to post a comment