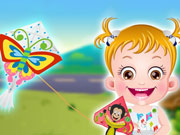 Baby Hazel Kite Flying
Category :
girl
Note :
(0)
---
Description :
Baby Hazel is preparing to participate in the kite competition. She needs to make kites in advance, but Baby Hazel has never been involved in flying kites before, so she decided to ask her father about kite flying techniques. Father decided to help Baby Hazel make a beautiful kite. They made a kite together in the yard in front of the house. Baby Hazel was very happy, but the rabbit in the yard broke the kite string. Father comforted Baby Hazel and made a more beautiful kite. Kite. It's time for the game, Baby Hazel and his father go to the game!
Control :
Click and drag the mouse to play.
Author :
babyhazelgames.com
---
Comments
Please login or register to post a comment