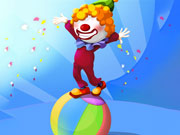 Ball To Ball
---
Description :
Ball gymnastics has become one of the official events of Olympic gymnastics. It has a long history of art and culture and is extremely enjoyable. When gymnasts catch gymnastics balls that fall from a high altitude, the audience will often applaud to express their appreciation. In the game Ball To Ball, you will have the opportunity to become a professional gymnastic player and perform gymnastic balls on a long and narrow platform. You will perform gymnastics at the sports meeting, make the most correct judgment and try to avoid mistakes. Are you ready?
Keywords :
Skill, Platform, Obstacle, Kids, Jumping, Boy, Ball, Avoid, Arcade, Android, 3D
Control :
Click and tap to play.
Author :
nosite.com
---
Comments
Please login or register to post a comment