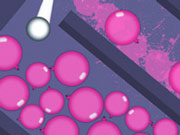 Balloon Maze
---
Description :
Do you want to know your ability to react? You can try this fun challenge game Balloon Maze, this game can help you improve your reaction ability, and get better aiming ability and sense of balance and so on. You can rotate the chessboard 360 degrees and guide the white ball to break all the balloons on the maze road. The balloon explosion is a very interesting and addictive game experience that you will enjoy. If you like this game, don't forget to share it with your friends!
Keywords :
Skill, Relaxation, Puzzle, Maze, Kids, HTML5, Collecting, Boy, Balloon, Ball, Arcade, Android
Control :
Tap and hold or drag to rotate.
Author :
yad.com
---
Comments
Please login or register to post a comment