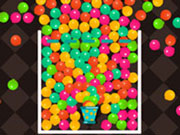 Balloons Creator
---
Description :
Balloons Creator is a puzzle game. You have a creator, could create balloons with no limitation. Your mission is full of dot lines. But you can not let balloons drop off the platform. Playing this game requires a lot of patience, you need time Pay attention to the game screen and the number of balloons. If you cannot fill the container within the specified time, you will have to restart the game.
Keywords :
Skill, Relaxation, Kids, HTML5, Cartoon, Boy, Block, Balloon, Ball, Arcade, Android
Control :
Press to creat balloons.
Author :
yad.com
---
Comments
Please login or register to post a comment