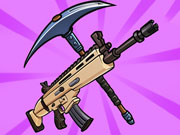 Battlepoint.io
---
Description :
Don't hesitate to pick up weapons and ammunition to kill enemies in this multiplayer online battle game at Battlepoint.io. In the game, you can control a well-trained soldier to perform missions. You need to search for the best weapon on the map in order to cause serious damage to other players in the game. In order to make the atmosphere of the game more intense, the game area will continue to shrink, which will force all players to fight each other in this area.
Keywords :
Submachine Gun, Running, Pixel, Obstacle, Multiplayer, Killing, Kids, HTML5, Gun, Fire, Boy,
Control :
WASD or arrow keys to move, left click to shoot or interact with an item.
Author :
iogames.space
---
Comments
Please login or register to post a comment