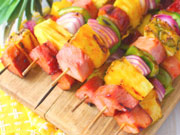 BBQ Skewers
---
Description :
Barbecue is undoubtedly one of the most popular dishes in the world. All barbecues are very delicious, including seafood barbecue, chicken, lamb, beef and other various vegetables. In the game of BBQ Skewers, you will become an excellent barbecue. Chef, your task is to cook delicious barbecue. Use your imagination and creativity to spell out various barbecues and delicacies in different shapes. Are you ready? The sorting puzzle game that is popular all over the world and the creativity of grilling skewers are full of fun and make people love it!
Keywords :
Puzzle, Kids, HTML5, GameDistribution, Fruit, Food, Brain, Boy, Android
Control :
Mouse click or tap to play.
Author :
gamedistribution.com
---
Comments
Please login or register to post a comment