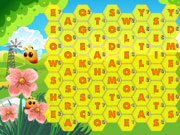 Bee English
---
Description :
Bee English is undoubtedly one of the most popular word spelling games this year. If you are a fan of word spelling, don't miss this game! It is worth noting that this is not a simple game. There is a number under each letterbox. During the spelling process, your connection cannot pass through the same number. The game has a time limit. You need to complete the tasks of each level within the specified time and strive to get the highest score. Are you ready? Create valid English Words in this Bee word game. Drag over letters and connect letters to create words.
Keywords :
Word, Timing, Number, Letters, Kids, HTML5, Highscore, Brain, Boy, Bird, Android,
Control :
Drag the mouse to play.
Author :
mindgames.com
---
Comments
Please login or register to post a comment