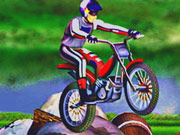 Bike Mania
---
Description :
Mountain motorcycle is the most popular means of transportation for young people because it is both thrilling and exciting. You can drive mountain motorcycles through various obstacles without overturning or falling because it has strong stability and extremely fast Speed is one of the best vehicles for chasing competitions. If you are a driving enthusiast, don't miss this game. If you like this game, don't forget to share it with your friends!
Keywords :
Stunts, Skill, Side Scrolling, Obstacle, Motorcycle, Kids, HTML5, GameDistribution, Driving, Car, Boy, Fruit
Control :
Use arrow keys to control the motorcycle move and space to brake.
Author :
flashgames247.com
---
Comments
Please login or register to post a comment