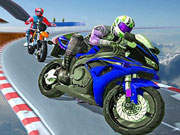 Bike Stunt Race Master 3D Racing
---
Description :
Bike Stunt Race Master 3d Racing is a racing game with hard track and different stunts. In the game, the track is set up high in the sky, and the track is very difficult. It is not an easy task for players to drive motorcycles to complete stunts on the track. If you are a true fan of motorcycle stunt games, come to the game to have real fun and enjoy the winding track. Then this is one of the best games for you.
Keywords :
Stunts, Skill, Simulation, Platform, Motorcycle, Kids, Boy, Avoid, 3D, GameDistribution
Control :
Use WASD or screen buttons to drive.
Author :
gamedistribution.com
---
Comments
Please login or register to post a comment