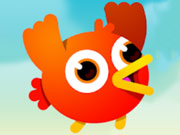 Birdy Trick
---
Description :
There is no doubt that Birdy Trick is one of the most interesting new arcade games this year, with addictive gameplay and 2D art style. Have you ever dreamed of flying in the sky like a bird? In the game Birdy Trick, you can realize your dreams, pay attention to avoid those dangerous eagles and ferocious birds, they can easily kill you, don't forget to collect beautiful stars, can you get the highest points? The objective of the game is to control the bird so that it can avoid all the obstacles in its path!
Keywords :
Skill, Side Scrolling, Obstacle, Kids, Jewel, HTML5, GameDistribution, Collecting, Boy, Bird, Avoid, Arcade,
Control :
Click to go up or touch the screen on mobile devices.
Author :
kiz10.com
---
Comments
Please login or register to post a comment