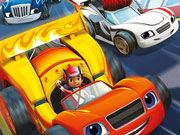 Blaze Racing
---
Description :
Blaze Racing has proven to be one of the most popular driving games this year, with addictive gameplay and 3D art style. If you are a fan of such games, don't miss this game! At the same time, this is a fast-paced survival action racing game. Your task is to sprint on the winding cliff road, destroy and burn other opponents, and try to avoid being knocked down! Don't forget to collect the blue stars, which can be exchanged for more advanced cars! The further you go, the more upgrades you will earn.
Keywords :
Skill, Racing, Obstacle, Kids, HTML5, Collecting, Car, Boy, Avoid, Arcade, Android, GameDistribution
Control :
Use arrow keys to control the car move and space to brake.
Author :
Happylander.com
---
Comments
Please login or register to post a comment