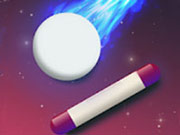 Block Breaker
---
Description :
Block Breaker is a very classic collision game. You need to control the ball to make it hit the bricks as much as possible. The game is a Breakout clone with the object of the game being for the player to break as many blocks as they can without causing the ball to fall. As they progress through different levels, power-ups become available to the player to aid them. The player will progress through a map that shows different locations that contain a set of levels.
Keywords :
Relaxation, Puzzle, Physics, Obstacle, Launch, Kids, Collecting, Bricks, Boy, Bounce, Block, Ball,
Control :
Click and drag the mouse to play.
Author :
yad.com
---
Comments
Please login or register to post a comment