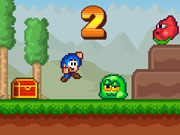 Bloo Kid 2
---
Description :
Bloo Kid and Pink Girl and their newly born Pink Kid are enjoying their happy and happy life, but unfortunate things happened. The evil wizard came to this quiet village where they lived and robbed their children. This is one A brand new adventure, Bloo Kid 2 is an adventure game with a 2D art style, with pixel art style and addictive gameplay. The beautiful game soundtrack is the biggest highlight of this game. There are a total of 52 levels in the game. Don't stop running until you eliminate all the enemies!
Keywords :
Skill, Side Scrolling, Running, Platform, Pixel, Obstacle, Monster, Kids, Jumping, Boy, Bird, Avoid,
Control :
Press Left / Right to move.
Author :
gamedistribution.com
---
Comments
Please login or register to post a comment