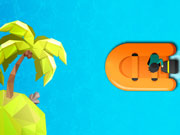 Boat Dash
---
Description :
Boat Dash is an interesting new arcade game. Your task is to control the boat on the ocean to cross the sea. It is worth noting that you need to try to avoid obstacles on the sea. At the same time, you can enjoy the beautiful seascape and collect bubbles. With props such as bubbles and stars, the islands are very dense, it is not easy to avoid them, are you ready?
Keywords :
Skill, Obstacle, Kids, Island, HTML5, GameDistribution, Boy, Boat, Avoid, Arcade, Android
Control :
Click and drag the mouse to play.
Author :
gamedistribution.com
---
Comments
Please login or register to post a comment