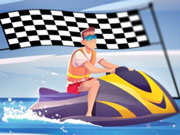 Boat Racing
---
Description :
Boat Racing is a super racing game for boat lovers. unlimited lap in-game or increase difficulty Avoid a variety of dangers on the way to save your life and do amazing jumps to overcome obstacles. special attention to hungry sharks and crocodiles. various types of track like narrow and winding canals, rivers. game controlling is very easy to handle tilt your phone to control the direction! try your best to collect coins as many as possible and make a high score.
Keywords :
Skill, Racing, Obstacle, Kids, HTML5, Collecting, Boy, Avoid, Arcade, Android
Control :
WASD or arrow keys to control boat.
Author :
julgames.com
---
Comments
Please login or register to post a comment