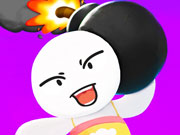 Bomb Prank
---
Description :
Bomb Prank is undoubtedly one of the most interesting multiplayer online confrontation games this year. You can choose your favorite cartoon characters or characters, such as Spiderman, Iron Man or Pikachu. After the game starts, you will be landed in a circular On the platform, your task is to snatch bombs and kill your opponents. It is worth noting that you need to prevent yourself from being injured, learn to turn and avoid bombs from other players. Are you ready?
Keywords :
Superhero, Spiderman, Running, Platform, Movie, Kids, Fire, Cartoon, Boy, Bomb, Avoid,
Control :
Click and drag the mouse to play.
Author :
yad.com
---
Comments
Please login or register to post a comment