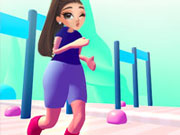 Bounce Big Online
---
Description :
Are you ready for a super fun running race? Bounce Big Online will always be your favorite running game! Your goal is easy, beware of obstacles, push it away and collect all the jelly, become bigger, stronger, super jelly to collect special rewards! When you are sliding on the roof, we may have some surprises. Join this epic game and show your unique style by becoming a winner.
Keywords :
Skill, Running, Platform, Obstacle, Kids, Funny, Collecting, Boy, Bounce, Avoid, Arcade, Android, 3D
Control :
Click and tap to play.
Author :
yad.com
---
Comments
Please login or register to post a comment