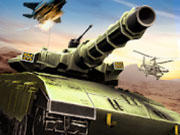 Call Of Tanks
---
Description :
Call Of Tanks is a strategy-related game. You must defeat your opponents by deploying tanks on the battlefield. Deploying with a perfect combination is the key to winning the battle. It is worth noting that you should not forget to upgrade your defenses and tanks. Get more powerful attacks and unlock powerful bases to gain more powerful defenses. If you like this game, don't forget to share it with your friends!
Keywords :
Tank, Strategy, Skill, Launch, Killing, Kids, Helicopter, GameDistribution, Fire, Boy, Arcade,
Control :
Drag and drop the tank card inside the marked area of your base.
Author :
gamedistribution.com
---
Comments
Please login or register to post a comment