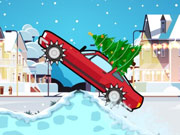 Christmas Drive
---
Description :
Christmas is coming. Christmas Drive is a new horizontal arcade game with a holiday theme. You need to control a car with a Christmas tree to cross obstacles on the platform and reach each level smoothly without the car being crashed. You also need to collect gold coins on the platform. This is a very rugged and complicated road, pay attention to avoid those unexpected obstacles, including gravel, wooden boxes, branches, etc. Use the shop to upgrade your car's power and wheels. Play Christmas Drive now for amazing fun!
Keywords :
Snow, Skill, Side Scrolling, Platform, Obstacle, Kids, Ice, HTML5, Holiday, Collecting, Christmas, Car,
Control :
AD or arrow keys to control car.
Author :
julgames.com
---
Comments
Please login or register to post a comment