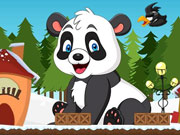 Christmas Panda Adventure
---
Description :
Panda Nick lives near the forest. Nick likes Santa Claus very much. He will help Santa pack gifts and transport them to the destination. But the evil wizard set up many traps and terrible obstacles. Nick will now have to go through all these levels, some traps will be repaired, some traps will be moved, if you don't avoid it in time, Nick will die. It is worth noting that these traps are very dangerous and you must be very careful.
Keywords :
Zombie, Undead, Snow, Skill, Side Scrolling, Platform, Panda, Obstacle, Kids, Jumping, HTML5, Kids
Control :
Use mouse on desktop or touch buttons on your mobile device.
Author :
newkidsgames.org
---
Comments
Please login or register to post a comment