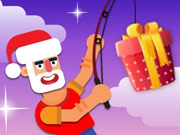 Christmasfishing.io
---
Description :
The ocean is the most mysterious place in the world. In this fun IO game Christmasfishing.io, you will become the first player ever to fish under the sea. There is not only a variety of fish on the seabed but also Christmas treasures. You need to collect these treasures to buy fishing equipment. Better equipment can help you reach a deeper seabed. Explore the magical underwater world! Enjoy fishing at Christmas! Explore magic Christmas fishing! Experience all of this with a beautiful art style.
Keywords :
Skill, Kids, Ice, HTML5, Holiday, GameDistribution, Fishing, Fish, Collecting, Christmas, Boy,
Control :
Click and drag the mouse to play.
Author :
gamedistribution.com
---
Comments
Please login or register to post a comment