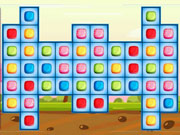 Classical Candies Match 3
Category :
other
Note :
(0)
---
Description :
Classical Candies Match 3 is an interesting matching game. Your task is to swap the positions of two squares so that three or more squares have the same color and match them together to achieve the purpose of clearing all the squares. . Each square has a candy pattern. Different colors of candies represent different squares. It is worth noting that you can use the props in the game, including magnifiers, bombs, magnets, etc., which can help you complete faster Are you ready for the mission of each level? Use power-ups to speed up the process. There are 36 interesting levels in this game.
Keywords :
Timing, Relaxation, Matching, Match 3, Kids, HTML5, Food, Boy, Bomb, Block, Android,
Control :
Use mouse or touch pad to play this game.
Author :
lofgames.com
---
Comments
Please login or register to post a comment