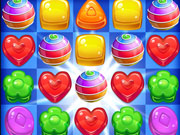 Cookie Crush Saga
Category :
other
Note :
(0)
---
Description :
Do you like colorful candies? Cookie Crush Saga is a matching game with innovative gameplay. Your task is to swap the positions of the candies so that three or more of the same candies are matched together to achieve the purpose of eliminating all the candy cubes. It is worth noting that the game There is a time limit. You need to complete the task within the specified time. At the same time, you can use special props in the game to change the color and shape of the candy. Are you ready? Match 3 of the same colored candies to earn points.
Keywords :
Timing, Relaxation, Matching, Match 3, Kids, HTML5, Fruit, Food, Cake, Boy, Android
Control :
Swap candies to make sweet lines of 3 or more to create candy blasts.
Author :
nosite.com
---
Comments
Please login or register to post a comment