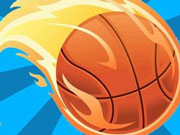 Crazy Baskets
---
Description :
Crazy Baskets is an arcade basketball game to shoot the balls through the rings successfully. It is also a sports game of throwing basketball. It is worth noting that you need to use some physics principles to accurately throw the basketball into the basket. Pay attention to the angle and strength of the launch. , If you are a loyal fan of basketball, don't miss this game, carefully observe the position of the basketball hoop, and become an excellent basketball player!
Keywords :
Sports, Skill, Physics, Kids, HTML5, Boy, Basketball, Ball, Arcade, Android
Control :
Left mouse button to shoot.
Author :
crazygames.com
---
Comments
Please login or register to post a comment