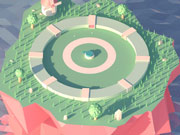 Cube Defensive
---
Description :
Cube Defensive is undoubtedly a very interesting new arcade game with addictive gameplay and 3D art style. If you are a fan of such games, don't miss this game! Your task is to launch a small red ball. Your goal is to prevent the red square from getting close to the center of the platform. This is a game that tests reaction speed and resilience. If you like this game, don't forget to share it with your friends! Don't shoot the blue ones. They're life. Don't miss any cubes to make combos. Combos add extra points to your score!
Keywords :
Platform, Launch, Kids, HTML5, Defense, Boy, Block, Arcade, Android
Control :
Click and tap to play.
Author :
nosite.com
---
Comments
Please login or register to post a comment