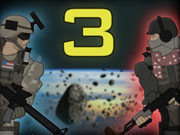 Deadswitch 3
---
Description :
Deadswitch 3 is a horizontal level clearance shooting game that can accommodate multiple players online at the same time. The game has different maps and powerful weapons. Your task is to kill the enemy with your teammates and ensure survival. There are some in the game Fortress, you can hide behind these obstacles and use the ladder in the game to find the right exit. The bullets are limited, don't forget to fill the bullets in time! Run, forward, shoot, don't stop! Ranked- Play with other players online or set up your own matches against bots.
Keywords :
Submachine Gun, Side Scrolling, Shooting, Platform, Obstacle, Multiplayer, Killing, Kids, Jumping, HTML5, Gun,
Control :
Use arrow keys to control the character move and click to fire.
Author :
newgrounds.com
---
Comments
Please login or register to post a comment