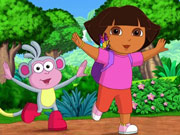 Dora The Explorer Coloring
Category :
other
Note :
(0)
---
Description :
Dora The Explorer Coloring is a very interesting coloring game. There are a total of 8 photos of Dora and different animals, including monkeys, dinosaurs, foxes, and bears. You can choose your favorite animals and add them to the given pictures. Color, you can choose 23 different colors arbitrarily, and match colors at will, and don't forget to save the picture at the end. If you are an art lover or have a certain artistic talent, don't miss this game! Have fun!
Control :
Use your mouse to play the game or tap on the screen.
Author :
shootinggames4all.com
---
Comments
Please login or register to post a comment