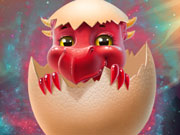 Dragon Planet
Category :
other
Note :
(0)
---
Description :
Dragon Planet is an exploration game consisting of 20 planets, 20 dragon eggs and 20 different dragons in total. There are tasks you need to do in each level. To remove the egg from under the soil, to clean it, to check the inside, to break the egg and to clean and care for the dragon, and to feed the dragon's belly with delicious fruits. If you like this game, don't forget to share it with your friends!
Keywords :
Planet, Kids, Jewel, Island, HTML5, Dinosaur, Collecting, Animal, Android
Control :
Click and tap to play.
Author :
crazyschoolgames.com
---
Comments
Please login or register to post a comment