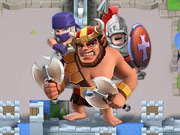 Draw Legion
---
Description :
The world war is about to start and your castle is about to be occupied by the enemy. Can you defend the castle and kill all the enemies? Draw Legion is a game with multiple elements. It is not only an exciting war game but also an interesting drawing game. Your task is to draw the correct line to achieve the purpose of increasing the number of troops. And warriors will help you kill the enemy!
Keywords :
War, Tower Defense, Sword, Paint, Knight, Killing, Kids, HTML5, Drawing, Dinosaur,
Control :
Click and tap to play.
Author :
nosite.com
---
Comments
Please login or register to post a comment