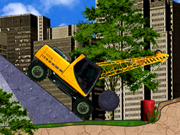 Drive To Wreck
---
Description :
Shot puts are very heavy sports equipment. Ordinary people can only pick up one shot at a time. Heavy trucks are needed to transport a large number of shots. As a professional truck driver, you need to transport the shots to the designated location safely. The quality itself is very large, so you need to always pay attention to maintaining balance, which requires extremely high driving skills and a sense of balance. If you are a fan of driving games, don't miss this game Drive To Wreck.
Keywords :
Truck, Stunts, Skill, Side Scrolling, Obstacle, Kids, HTML5, GameDistribution, Driving, Car, Boy,
Control :
Use arrow keys to control the truck move.
Author :
1000webgames.com
---
Comments
Please login or register to post a comment