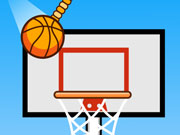 Dunk Fall
---
Description :
Dunk Fall is a very interesting new arcade game. It is also a shooting sports game. If you are a basketball fan, don't miss Dunk Fall. In the game, you need to throw the basketball into the basket. It is worth noting that the basketball is tied in mid-air by a rope, and the rope will be disconnected by clicking on the screen. You need to use the parabola principle and rebound principle in physics to predict Estimate the trajectory of basketball. This is not a simple game. You have a total of 3 chances.
Keywords :
Sports, Skill, Physics, Kids, HTML5, Boy, Basketball, Ball, Arcade, Android, GameDistribution
Control :
Click or tap to shoot.
Author :
qkygames.com
---
Comments
Please login or register to post a comment