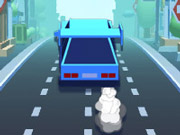 Elastic Car
---
Description :
Elastic Car is a new arcade game. You need skilled and superb driving skills to enjoy the fun of this game. In the game, you can show your driving skills and experience super fast speeds, control the vehicle to change lanes and Go beyond all the vehicles in front, and you can collect some important props to experience the rocket-like acceleration function. Collecting the yellow cars running on the street will provide you faster speed a little invincible time. Glad you will show your best scores and have fun!
Keywords :
Truck, Skill, Racing, Kids, HTML5, Collecting, Car, Boy, Arcade, Android, 3D, Editor Choice
Control :
Click and drag the mouse to play.
Author :
cargames.com
---
Comments
Please login or register to post a comment