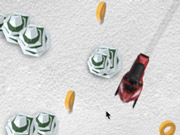 Extreme Jetski
---
Description :
The 2022 Winter Olympics will be held in Beijing. Skiing is one of the most thrilling and exciting ice sports in winter. If you are a skiing enthusiast, don't miss this game. In the game, you will experience the most dangerous Ice sports, alpine skiing and high-speed skating. If neither of these two sports can satisfy you, you can also choose electric sleds. There are many trees in the ski track. You need to avoid these obstacles while collecting landmarks and paying attention to the huge ones. The snowball will appear from the side.
Keywords :
Stunts, Sports, Snow, Skill, Ski, Obstacle, Motorcycle, Ice, HTML5, Collecting, Avoid,
Control :
Drag to right or left to turn direction.
Author :
yad.com
---
Comments
Please login or register to post a comment