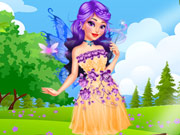 Fairy's Magical Makeover
Category :
other
Note :
(0)
---
Description :
Have you ever wondered what it would be like to be a magic fairy in an enchanted land? Play a beautiful fairy in this wonderfully magnificent design game. The beautiful fairy was taken away by the devil, her body was scarred, and she was all abused Traces, she needs the help and treatment of the doctor. As a surgeon, you need to treat the wounds of the fairy, especially those bleeding scars, and then do a body cleaning and SPY for her. Finally, you need to choose some beautiful fairy costumes. The fairy thank you very much and give you some gold coins in return.
Keywords :
Surgery, Rescue, Makeover / Make-up, Magic, Kids, HTML5, Hair, Fashion, Fairy, Dress Up,
Control :
Click to play.
Author :
prinxy.app
---
Comments
Please login or register to post a comment