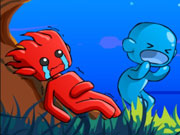 Fireboy Watergirl Island Survival 4
---
Description :
Fireboy and Watergirl are about to usher in another adventure of theirs. The location is on an isolated island. There are many ancient animals and plants that have been extinct in other areas, such as dinosaurs and piranhas. It is full of crises and traps. Your mission It is to control Fireboy and Watergirl separately to cross various obstacles and platforms. At the same time, you also need to collect various gems to escape the island smoothly. It's worth noting that Fireboy can only collect rubies and Watergirl can only collect sapphires. Are you ready?
Keywords :
Running, Platform, Obstacle, Kids, Jumping, Jewel, Island, HTML5, Collecting, Boy, Avoid, Android
Control :
Use arrow keys to control the character move and click to jump.
Author :
to43.com
---
Comments
Please login or register to post a comment