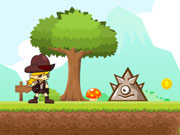 Forest Range Adventure
---
Description :
Forest Range Adventure is an interesting new arcade game, but also a great adventure. Monsters occupy the entire magical forest. You must escape from the monsters. There are one-eyed scorpions and mutant frogs. You need to overcome them. Fear, move forward on the platform, and also need to collect gold coins. These gold coins can be used to exchange magic items to increase the value of health. Finally, you need to fight the boss, kill the monsters, and get the key to open the next level. Are you ready?
Keywords :
Sword, Side Scrolling, Running, Platform, Obstacle, Monster, Kids, Jumping, HTML5, Highscore, Food, Fighting
Control :
Use arrow keys to control the character move.
Author :
y8.com
---
Comments
Please login or register to post a comment