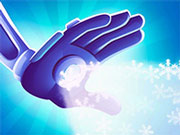 Frozen Sam
---
Description :
Frozen Sam is a spellbinding casual game. As we are all somehow restricted by our mortal bodies, it is everyone's dream that one could be equipped with some sort of superpower. This dream will come true today as you play this game. Your left hand is endowed with the ability to freeze the enemies, and in your right hand, there is a gun at your disposal. Stretch out your hands and destroy those who block your way forward!
Keywords :
Snow, Skill, Room, Obstacle, Launch, Kids, Ice, Frozen, Boy, Avoid, Arcade, 3D,
Control :
Click or tap to control.
Author :
yad.com
---
Comments
Please login or register to post a comment