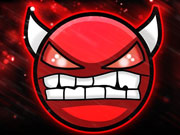 Geometry Dash Bloodbath
---
Description :
Geometry Dash Bloodbath is one of the most difficult new arcade games in the world. Your task is to quickly jump and traverse all obstacles in this rhythm-based action platform game. This is a brand new adventure. There are new ones in the game. Levels, new music, new monsters, new everything. It is worth noting that you must jump as fast as possible and pay attention to the surrounding environment. At the same time, you also need to collect as many gold coins as possible and earn points. Are you ready?
Keywords :
Skill, Side Scrolling, Running, Platform, Pixel, Obstacle, Kids, Jumping, HTML5, GameDistribution, Collecting, Cartoon, Fruit
Control :
Use arrow keys to control the character move.
Author :
kiz10.com
---
Comments
Please login or register to post a comment