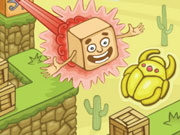 Golden Scarabeaus
---
Description :
Golden Scarabeaus is an adventure game that took place in ancient Egypt. Your task is to control the block to move on a wooden platform and collect golden beetles. It is worth noting that each beetle has different abilities, and some beetles will float. Some will roll or jump, or even be attracted by lasers. You need to use your wisdom to collect each beetle smoothly. The object of the game is to collect all the golden scarabs on each level using the little square minions at your disposal, and the catch is that each of them has a different ability when you click on them.
Keywords :
Skill, Side Scrolling, Platform, Obstacle, Kids, HTML5, Collecting, Bricks, Boy, Block, Avoid, Arcade,
Control :
Click and drag the mouse to play.
Author :
gamedistribution.com
---
Comments
Please login or register to post a comment