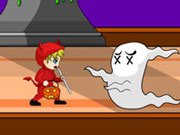 Halloween Adventure
---
Description :
Although Halloween is over, the legends and adventures about Halloween never stop. In the game Halloween Adventure, you can experience a fantasy adventure with our protagonist Nick. Nick is the most famous magician on the European continent. The task is to work with him to break the traps in the castle and find the way back to human society. It is worth noting that the demon castle is a very dangerous place. There are countless demons and ghosts living here. You can kill them, but magic Is limited. You can get jack-o'-lanterns by destroying obstacles. Don't hesitate, you will start an exciting adventure in the castle.
Keywords :
Skill, Side Scrolling, Running, Platform, Obstacle, Monster, Knight, Kids, Jumping, HTML5, Holiday, Skill
Control :
Direction keys to move.
Author :
yad.com
---
Comments
Please login or register to post a comment