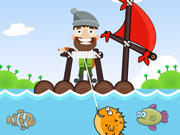 Happy Fishing
---
Description :
Fishing is a very popular recreational activity. Have you ever dreamed of fishing in a beautiful lake? In the game Happy Fishing, you can enjoy the fun of fishing, aim at the timing, swipe the fishing rod, and catch as many fish as possible. It is worth noting that there are some bombs in the lake. Don't touch these dangerous bombs! If you are a fishing fan, don't miss this game! Click on the screen to drop the fishhook and catch a fish. Don't miss it, or you can deliver a bomb to your ship!
Keywords :
Skill, Kids, HTML5, Fishing, Fish, Collecting, Boy, Bomb, Boat, Arcade, Android, GameDistribution
Control :
Click or tap to drop the fishhook.
Author :
qkygames.com
---
Comments
Please login or register to post a comment