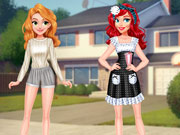 Home Fashion Style #inspo
Category :
girl
Note :
(0)
---
Description :
The style of the maid outfit is very simple and plain, mainly with a white apron decorated with ruffles and a white-collar plain long dress, and a maid headscarf is also worn on the head. In addition, the dresses are mostly black or blue, and bright colors are not often seen. The princesses are super bored and they need something to do while staying at home. Entertain the girls with the fun activities. Play dress-up, mix and match the clothes to create an amazing homestay outfit. Have fun!
Control :
Mouse click or tap to play.
Author :
girlsplay.com
---
Comments
Please login or register to post a comment