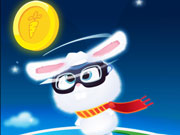 Jump Bunny Jump
---
Description :
Jump Bunny Jump is a very interesting new arcade game with addictive gameplay and 2D art style. The little bunny likes to jump high. He invented the catapult and now he wants to jump as high as possible. Help him fulfill his dream and jump to infinity. During the jump, collect coins and use various power-ups. Shoot the bunny from his catapult and collect coins while jumping. The rabbit hopes to jump higher and farther. Use collected inventions or buy some in the store.Are you ready?
Keywords :
Skill, Rabbit, Obstacle, Launch, Kids, Jumping, HTML5, GameDistribution, Collecting, Boy, Avoid, Arcade,
Control :
Mouse click or tap to play.
Author :
gamedistribution.com
---
Comments
Please login or register to post a comment